15 March 2023
Squaring the circle for pi day
by Rachel Shu
Status: finished
Meaningfulness: representative of this blog
---
For Pi day yesterday, I made a square pie from impossible meat (drumroll pls), and served it to guests at my friend's weekly dinner. I adapted a recipe for ""egyptian goulash"" (which, suffice to say, does not correspond with the name for any egyptian dish, nor any style of goulash, which is a hungarian soup). If you know how to make bourekas, it is basically square meat bourekas made vegan. Recipe as follows (makes 9 servings):
Square baking pan, approx. 10"x10", greased or covered in nonstick foil or parchment
Frying pan and spatula
Cutting board and knife
Basting brush or paper towel
Ingredients
1 package of puff pastry (2 sheets, 17 oz), thawed according to box instructions
1 large white onion (10 oz), diced
1/4 tsp salt
1 package of impossible meat (12 oz)
1 small box of golden raisins (1 oz)
1 tbsp garam masala spice mix (or spice to taste)
1/4 stick vegan butter (2 tbsp)
sesame seeds
Recipe
Preheat oven to 375°F.
Carefully unroll 1 puff pastry sheet and place it in the baking pan. Trim pastry to fit and slice twice in both directions to create 9 even squares.
Saute onions over medium heat with the salt and half of the butter (1 tbsp) until transparent and lightly browned. Layer in baking pan over puff pastry.
Mix impossible meat with spice mix and raisins and saute until browned, stirring frequently to break up meat. Layer in baking pan over onions.
Carefully unroll second puff pastry sheet and lay over meat. Trim pastry to fit.
Melt remaining butter (1 tbsp) and use basting brush or paper towel to cover pastry with butter. Sprinkle sesame seeds over top.
Slice pastry twice in both directions to create 9 even squares, matching the bottom layer as closely as possible.
Bake for 15-20 minutes or until top is puffed and browned. Can be served immediately.
Further suggestions to consider:
Dice and sauté some potatoes to add another layer under the onions.
Add parsley into the meat.
Use phyllo dough instead of puff pastry; will yield a flakier result. Also much more of a pain in the ass to work with.
Add a layer of vegan ricotta. You can debate marit ayin with your friends, and also whether or not this is now lasagna.
Following this recipe closely will yield a better-looking result than pictured, I was sort of winging it and the recipe incorporates lessons learned. It was tasty though!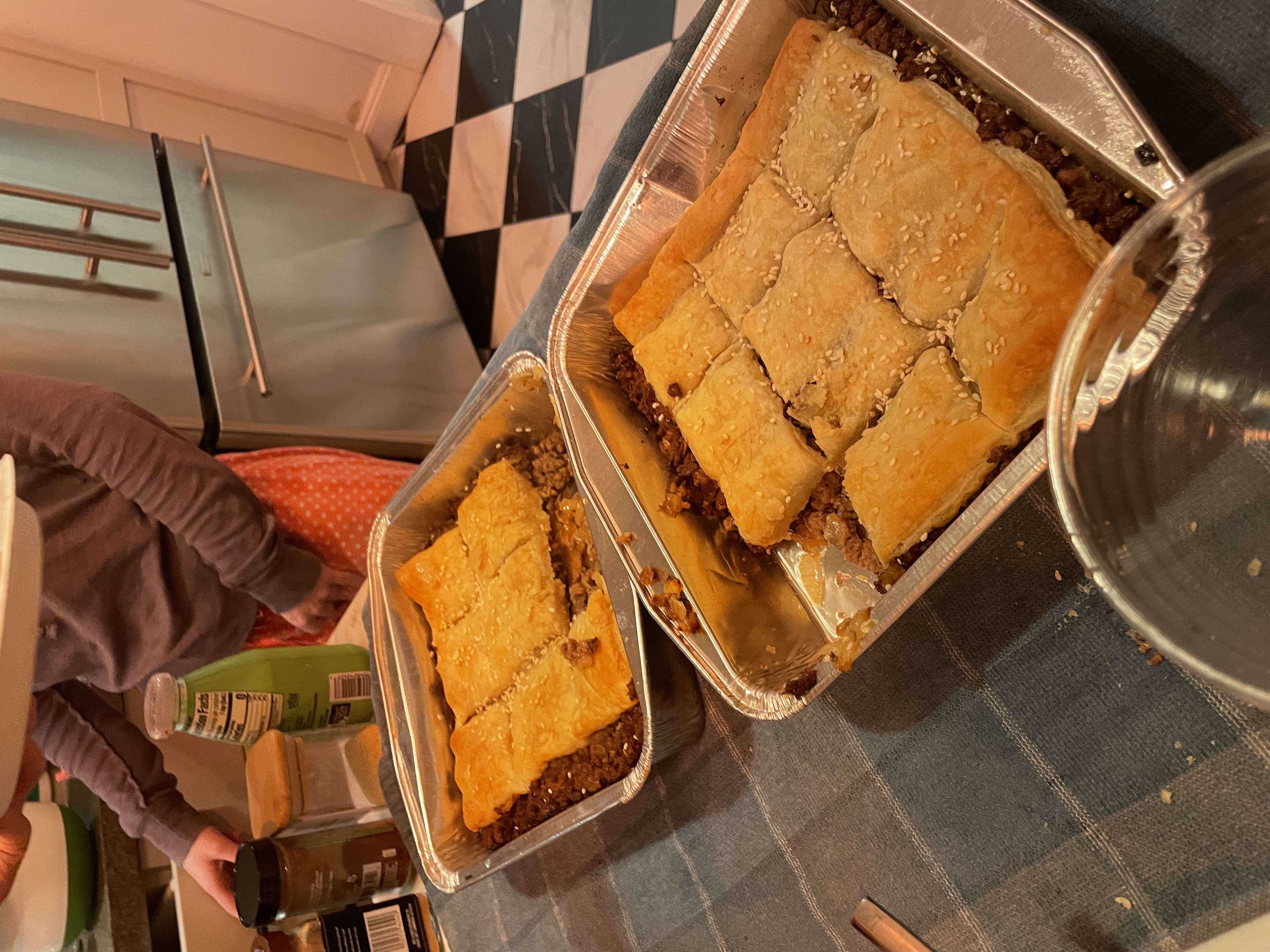 tags: recipes